Available General Plan of Calls for Applications 2016
10-05-2016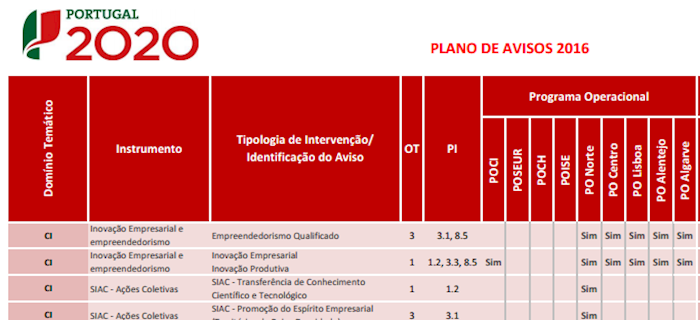 Now available in the Applications tab - Calls for Applications for consultation and download (in Excel format and PDF) is the General Plan of Calls for Applications 2016 approved yesterday, May 9. This Plan is general and presents a forecast of opening Calls for Applications for all Programmes of Portugal 2020.
The calendar with the opening and closing dates of the Calls was published on Monday. In 2016 will open 154 Calls under Portugal 2020, and by March were paid 962 million euros.
Altogheter, it is planned to launch 154 Calls throughout the year, some of which are already underway.
The Calls Plan is an innovation of the new Community framework for Portugal 2020 and was created with the aim of providing greater predictability to the Calls, allowing candidates and consultants to make a better management of the proposed cycle.
By the end of March, under Portugal 2020 had been approved 6,488 applications throughout the territory, corresponding to an investment of 4.96 billion .